Shabbona Lake State Park Campground Information
Shabbona Lake State Park Campground is a semi-wooded area with 150 Class A sites with electricity, showers, vehicular access, boat launch, playground, kid's fishing area, and The Camp Store. No more running into town when you have forgotten an item, just walk over to The Camp Store to find it. We have everything you need! Bring your kids over and use our loaner fishing poles! We also have paddle boats that you may rent to enjoy a scenic view of Shabbona Lake.
Each campsite has a gravel parking space, picnic table, and a campfire ring. Campfires are only allowed in the ring, you must either purchase firewood at The Camp Store or you may bring in wood as long as it has been certified by the Illinois Department of Agriculture as having been inspected and found pest free.  All vehicles must park on the gravel pads. Please remember to erect your tent on or within 15 feet of the gravel pad.
A single camp is considered to be a family of no more than four adults, or a group of no more than four unrelated adults. Four unrelated adults without children may occupy up to two tents per campsite.
Reservations:
Reservations for the cabins, campsites, shelters and youth group can be made on-line through www.camp.exploremoreil.com. All overnight prices can be found on the Explore More IL site.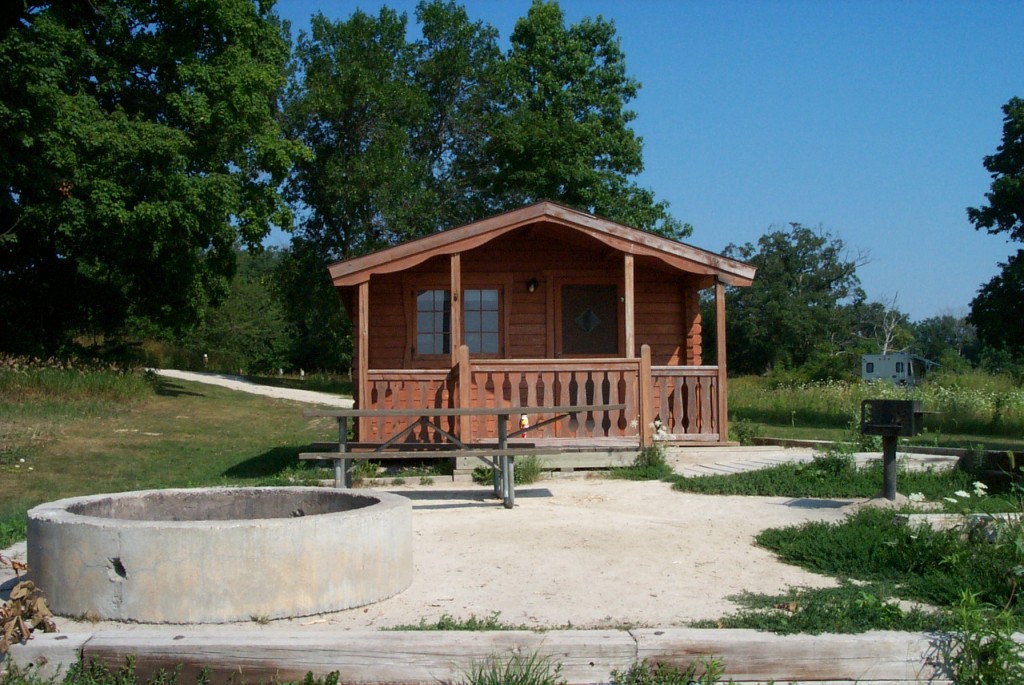 View more photos of the Cabins
Shabbona Lake State Park has two cabins available for rent. The cabin consists of two rooms that total approximately 200 square feet. The cabin is located near the shore of the lake facing the southeast overlooking the water. The area is shaded and fairly secluded. At this time there in no dock for boats at the cabin, but a dock is nearby at the boat launch. A Maximum of 6 people allowed.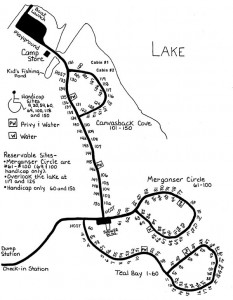 The Camp Store
The Camp Store provides several services to the campers of Shabbona Lake State Park's 150 site campground. We are your one-stop location for all your camping needs during your stay.

Interactive Campground Map
Checkout pictures of the Shabbona Lake State Park camp sites before you arrive. View Shabbona Lake Campground Map or view photos of each site
Alcohol Ban
Possession and consumption of alcohol is prohibited at all times in the camping areas. This regulation is strictly enforced. *You may not purchase or hold a site for anyone else.
Vehicular Access
Vehicular Access to the campground is prohibited between 10 PM and 6 AM. A tire shredder is activated between these hours. Also, you are allowed a maximum of two vehicles per site and both must be on the gravel pad.
Quiet hours
Quiet hours are in effect from 10 PM to 7 AM.
Ground fires
Ground fires are allowed only in the fire rings at each campsite. You may gather dead wood or bring your own. Fire wood may also be purchased at the Camp Store. Operation of chain saws is prohibited.
Hours of Operations
From May 1st through October 31st you may check in from 6 AM to 10 PM. Check out time is 3 PM the following day. However, a permit for a campsite must be renewed by 10 AM for campers wishing to extend their stay. The campground closes, the gate is locked and all visitors MUST leave by 10 PM. In emergency situations, contact the campground host. From November 1st through April 30th, check in times are from 8 AM to sunset. There is no access to the campground after sunset during this time.
Camp Definition
All sites are single-family campsites. A "single family" consists of either or both parents and unmarried children, but not to exceed 4 adults (18 years of age or older). In addition, a group of not more than 4 occupants may occupy up to two tents on a single campsite.
Length of Stay
Campers are eligible to camp for a maximum of 14 days in a 30 day period. You may leave your camp unoccupied for no more than 24 hours.
Facilities
Each campsite has a gravel parking space, picnic table, and a campfire ring which is the only spot where ground fires are allowed. Only dead wood on the ground in your immediate vicinity may be collected for fires. All vehicles must park on the gravel pads. All tents must be erected on or within 15 feet of the gravel pad.
Swimming / Wading
Swimming and/or wading is prohibited at Shabbona Lake. This regulation is strictly enforced