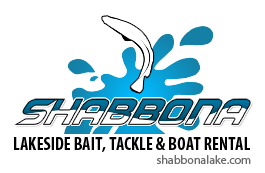 Shabbona Lake's #1 Experts
We stock only what works at Shabbona Lake.

Shabbona Lakeside is now OPEN based on weather.
March – Weather Dependent
April 1st to April 9th 6:30 AM to 6:30 PM
April 10th to September 4th 6 AM to 7 PM
September 5th to September 30th 6 AM to 6:30 PM
October 1st to October 9th 6:30 AM to 6 PM
October 10th to October 31st 7 AM to 5PM
 We will have a full line of bait, tackle & fishing licenses.

The staff of Lakeside Bait Shop, Boat Rental and Tackle are courteous, friendly and willing to help you get the best of your trip to Shabbona Lake. Since 1998, this has been a family operated business. On any given day you can find a Sands family member in the shop ready to assist you.

We offer:
~ Boat Rental (pontoon, bass fishing boat, motor boat, row boat, kayaks, canoes and paddle boats)
~ bait
~ tackle (specific to Shabbona Lake)
~ fishing poles
~ fishing hot spots map created by Denny Sands
~ candy & snacks
~ water & pop
~ alcohol
~ tons of pictures of fish caught at Shabbona Lake
~ pictures of the land before the lake was created