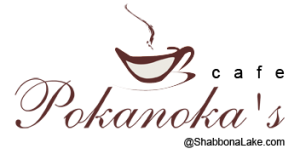 Pokanoka's will be closed during March as we prepare for the upcoming season.  Pokanoka's will reopen in April.  See you all in April!!!
SUMMERTIME ONLY OFFERING ON THE WATER DELIVERY.  Did you find your favorite spot?  Are you catching tons of fish?  There is no need to leave that spot to eat.  Just call (815) 824 2481 and order your food and we will deliver right to your boat.  Then come in after your trip for a cold beer or ice cream, watch your favorite sports team, and tell us your fishing stories.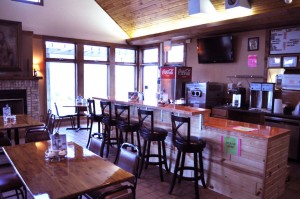 Shabbona Lake State Park is blessed to have the area's most popular Café'. It is called Pokanoka's Café, named after Chief Shabbona's Wife. Pokanoka's overlooks scenic Shabbona Lake with a magnificent view through very large glass windows. The 60 seat Café also has outdoor seating, with a decorative pergola, for an additional 40 diners.
The famous Pokanoka Burger is only at Pokanoka's. It is two perfectly seasoned never frozen hamburger patties, two slices of cheese, grilled onions, with BBQ sauce served on a toasted Kaiser bun.
Connect with Pokanoka's
Other Pokanoka's Cafe Events
September 1st Dinner and a Movie at Pokanoka's
October 12th Dinner and a Movie at Pokanoka's
Pokanoka's Hours For 2013:
April
1st weekend in April – Saturday & Sunday 11 AM – 2 PM
2nd-4th weekend in April – Fridays 11AM – 8PM, Saturdays & Sundays 11 AM – 4 PM
First Friday Night Dinners on April 19th, featuring Baked or Fried Icelandic Cod, and Slow Cooked Hickory Smoked Ribs!
May 1st – May 24th
Mon – Thurs 11AM – 2PM
Friday 11AM to 8PM
Saturday 11 AM – 7 PM
Sunday 11 AM – 6 PM
Memorial Day Weekend – Labor Day Weekend
Monday – Thursday 11 AM – 5 PM
Friday 11 AM – 8 PM
Saturday 10 AM – 8 PM
Sunday 10 AM – 7 PM
Labor Day – Columbus Day

M-F 11 AM – 2 PM
Saturday 11 AM – 7 PM
Sunday 11 AM – 6 PM