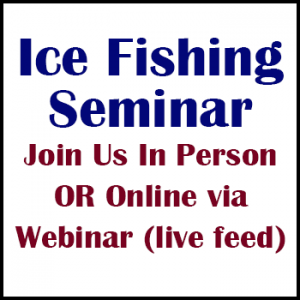 On December 8th from 10 AM till 11:30 AM, Shabbona's Lakeside Bait, Tackle & Boat Rental will be hosting a free Ice Fishing Seminar at Pokanoka's Restaurant. Speaker will be the Crappie Professor, Jim Kopjo. Jim is a tournament Ice Fisherman competing in Ice Fishing Tournaments in several states.
IT WILL ALSO BE AVAILABLE LIVE THROUGH SHABBONA LAKE'S 1st LIVE FEED "WEBINAR". We will broadcast this event live to those who can not be here in person. If you'd like to register for the Webinar version please fill out the form below.
Jim knows Shabbona Lake very well and we have all gazed in amazement at the Crappie photos he has posted on our web site.
Jim will cover the basics of ice fishing, so for those who who would like to learn & try ice fishing this is a great opportunity. For those who used to ice fish, this will be a great chance to pick up a few pointers and get back into the game. For those that ice fish alot, this is a chance to always learn more.
Here are just a few of the topics Jim will cover :
Ice safety
Shanties
Clothing
Augers
Depth finders
Under water camaras
Rods
Tackle
GPS maps
Side/Down imaging
In Addition : Shabbona Lakeside will have all of its ice fishing tackle available for 15% off that day
Special Addition : Pokanoka's will serve lunch. We will pass around a sheet, for those who would like to purchase lunch, to sign.