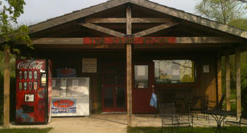 The Camp Store
The Camp Store provides several services to the campers of Shabbona Lake State Park's 150 site campground.  We are your one-stop location for all your camping needs during your stay.

FAMILY SPORTS CENTER
Features Two Sand Volleyball Courts, One Badminton Grass Court, Two Horseshoe Pits & Camper's Coupons!

HOURS:
Memorial Day – Labor Day
Mon.-Thurs. 4 PM – 8 PM
Fri. 11 AM – 8 PM
Sat. 6 AM – 8 PM
Sun. & Holidays 6 AM – 12 PM

April, May, September & October
Friday, Saturday, Sunday & Holidays

No more running into town when you have forgotten an item, just walk over to The Camp Store to find it. We have everything you need! Bring your kids over and use our loaner fishing poles! We also have paddle boats that you may rent to enjoy a scenic view of Shabbona Lake.We offer everything you need or may have forgotten while camping.

Maps of Lake
Camping Supplies
Groceries
Ice Cream
Kid's "Loaner" Fishing Poles
Bait & Tackle
Boat Rental
Candy & Snacks
Wood for Campfire
Ice
Interactive Campground Map
Checkout pictures of the Shabbona Lake State Park camp sites before you arrive. View Shabbona Lake Campground Map